My Favorite Holiday Memories
Yesterday, I talked about my love for Christmas and why I'm so extra lol and a major reason is all of the memories I have associated with this time of year, both old and new.
The memory that I hold dearest..
My family used to get together sometime before Christmas and meet up at my Great-Grandmother's house. My uncles and father would help bring in a big live tree and set it up in the family room. Meanwhile, us kids would be in the kitchen and dining room helping my Great-Aunt make Christmas cookies from the Pillsbury dough that had Christmas characters on them. We'd have cookies, small bites, hot cocoa, and Christmas carols would be playing in the background. Once the men finished fighting with the tree to get it up and situated, my Great-Grandmother would dig out her box of Christmas ornaments, some older than I am, and hand them to us one by one to go and put up on the tree. We'd race and fight to put them up as quickly as possible to beat the next person to go get another ornament. I'm smiling and giggling as I type this because you'd think we were getting medals for who put up the most ornaments. I'm also smiling because some time ago my Great-Grandmother told me that she wants me to have those very same ornaments that are sitting in her basement as we speak to use for my own tree one day.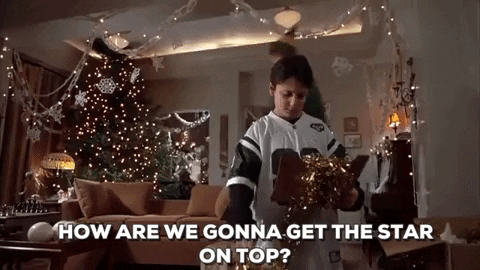 After the tree was finished..
We'd all gather around and sing the 12 Days of Christmas, everyone assigned their own part of the song. We'd laugh, sometimes argue, play, eat, and enjoy each other's company until it was time to go home and see each other bright and early for Christmas brunch, however long in between that was. We no longer do this for a number of reasons, including my immediate family being spread out across Ohio, and opposite coasts of the country. I can't tell you the last year this happened but it is a holiday memory I will always cherish.
Christmas Day Games
Everyone who knows me knows I love a good game night. Another favorite memory of mine is playing LCR (Left, Center, Right) with my family. That was one of my first experiences with gambling LOL It's a dice game that includes passing around money until only one person was left in the game to collect the pot. We'd play with quarters, dollar bills, and we'd be so excited to win the pot. I just texted my family group chat to have their ones ready and be prepared because it's going down at Christmas brunch.
The funniest Christmas memory..
The year Bad Santa came out. For some reason, my dad thought this was an appropriate movie for kids and took my siblings and I to go see it. Let's see, Bad Santa came out in 2003 so that means I was 11 years old. My twin sister and brother were 8, and my older sister, 14. If you've ever seen the movie you know that that was NOT a movie to show kids that young. My dad spent most of the movie covering up my younger brother and sister's eyes and telling my older sister and me to close ours. It's the funniest shit ever and I get the best laugh thinking about it. "F**k me Santa, f**k me Santa" *insert crying laughing emoji here*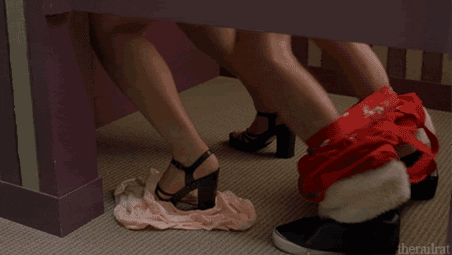 All the Partying
My most recent favorite holiday memory is planning my annual Christmas party. This year was the third year and I get so excited, and EXTRA, in my preparation. I have Pinterest boards with decor ideas, games, and bites (most of which don't even get used LOL). It's a good time with friends I see often, and some I see only a few times a year. When I get rich enough to just throw money away, I'm reuniting Destiny's Child to come and perform 8 Days of Christmas and their Christmas Medley for my party.Though the holidays aren't the same as they were when I was younger and things change over the years, I hold dear the memories I do have and am looking forward to the memories to come and the traditions I create with my own family. Also, I NEED a Honey Baked Ham like, yesterday.I know that the holidays aren't a good time for some, so check back tomorrow for "When 'Home for the holidays' Isn't Good For Your Mental Health"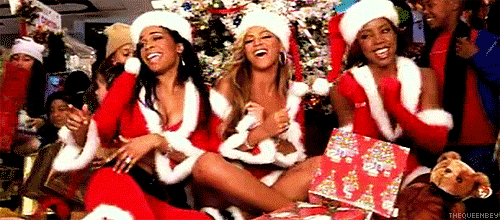 My most recent favorite holiday memory is planning my annual Christmas party. This year was the third year and I get so excited, and EXTRA, in my preparation. I have Pinterest boards with decor ideas, games, and bites (most of which don't even get used LOL). It's a good time with friends I see often, and some I see only a few times a year. When I get rich enough to just throw money away, I'm reuniting Destiny's Child to come and perform 8 Days of Christmas and their Christmas Medley for my party.Though the holidays aren't the same as they were when I was younger and things change over the years, I hold dear the memories I do have and am looking forward to the memories to come and the traditions I create with my own family. Also, I NEED a Honey Baked Ham like, yesterday.I know that the holidays aren't a good time for some, so check back tomorrow for "When 'Home for the holidays' Isn't Good For Your Mental Health"